Vocalion's October 2017 release places the accent on soulful, funky sounds with a clutch of classic albums spread across three separate SACDs.
Flautist extraordinaire Dave Valentin, who passed away earlier this year (2017) at the age of 64, was not only one of the instrument's great virtuosos but also a leading exponent of Latin jazz. Born in the South Bronx in 1952, he grew up listening to the music of such Latin icons as Johnny Pacheco, Richard Egües, Tito Rodriguez and Tito Puente. By the age of ten he was playing percussion in New York's Latin clubs and by sixteen had enrolled at New York's High School of Music and Art as a percussion major. Switching to flute, he studied with Hubert Laws and later joined the bands of pianist Ricardo Marrero and percussionist Manny Oquendo. Turning pro in the early '70s, he would perform in Africa, Brazil and the Philippines, play with Latin supergroup the Fania All-Stars at Madison Square Garden and begin to receive plaudits from music industry giants such as Quincy Jones.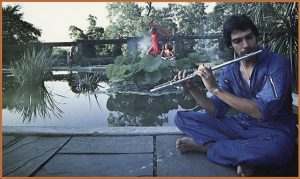 In 1977, Valentin was invited to play on the demo sessions for violinist Noel Pointer's Phantazia album, which was being overseen by GRP, the production company of arranger-composer-pianist Dave Grusin and recording engineer Larry Rosen. Grusin and Rosen were so impressed with Valentin that they asked him to participate in the sessions for Grusin's upcoming One of a Kind album. Unbeknownst to Valentin, Grusin and Rosen were also about to sign a deal with Arista Records that would see the creation of a new imprint, Arista GRP. On the lookout for artists, Grusin and Rosen immediately thought of Valentin, who quickly found himself on the receiving end of a recording contract.
Valentin's first two albums for Arista GRP, 1978's Legends and 1979's The Hawk, were both critical and commercial successes, and his third album, 1980's Land of the Third Eye, which Vocalion has reissued, continued that thread, balancing funk and R&B with the flautist's unique brand of Latin jazz. The album contains the jazz-funk staple Sidra's Dream, while other tracks include covers of Earth, Wind & Fire's Fantasy and The Doobie Brothers' Open Your Eyes, plus two Valentin originals. The flautist is backed by an all-star lineup featuring Marcus Miller and Lincoln Goines (bass guitars), Buddy Williams and Tito Marrero (drums), Dave Grusin (keyboards), Michael Viñas (guitar) and Roger Squitero (percussion). This reissue, comprising both standard PCM CD and high-resolution stereo SACD layers, marks Land of the Third Eye's first ever appearance in CD or SACD format, and includes a lengthy liner note detailing Valentin's career and music.
From CTI, the imprint of legendary jazz producer Creed Taylor, comes the albums Prelude and Deodato 2, both of which showcase the talents of Brazilian keyboardist-composer-arranger Eumir Deodato. A native of Rio de Janeiro, he began his career in the early '60s working for Luiz Bonfá, Marcos Valle and Antonio Carlos Jobim before moving to the US in 1967 where he quickly made a name for himself – he would soon start arranging for luminaries such as Frank Sinatra and Milton Nascimento.

His work on Nascimento's 1969 album Courage brought him into contact with Creed Taylor, and when Taylor set up CTI in 1971, he wasted no time in engaging Deodato's arranging skills. Deodato's early CTI work included his beautiful orchestrations for Astrud Gilberto and Stanley Turrentine's 1971 album Gilberto with Turrentine, and by 1972 Deodato himself had earned a solo contract with the label. He struck gold with his first effort, the aptly titled Prelude, thanks to Creed Taylor's penchant for getting his artists to record jazz/crossover versions of well-known classical pieces. In Deodato's case, it was the Sunrise fanfare from Richard Strauss's Also Sprach Zarathustra, which had become popular through its use in Stanley Kubrick's sci-fi epic 2001: A Space Odyssey. Deodato's funked up, Fender Rhodes-laden reimagining of it brought both him and CTI chart success – it would become an international hit – and while it casts a long shadow over the remainder of the album, Prelude nevertheless contains several other gems. Notable among them is the Latin-flavoured jazz of Carly & Carole (Deodato's tribute to singer-songwriters Carly Simon and Carole King) and the low-slung funk of September 13, powered by Billy Cobham's muscular drumming.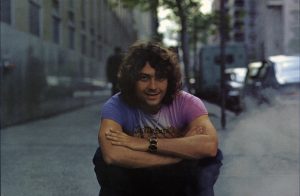 The sequel, Deodato 2, recorded during April and May 1973, adhered to the same formula: funky originals alongside his interpretations of various classical pieces. And although it failed to emulate the success of its predecessor, Deodato 2 is arguably the better album, containing one of Deodato's finest compositions in the dramatic Skyscrapers – sounding for all the world like a theme in search of a film – and superb jazz-rock adaptations of The Moody Blues' Nights in White Satin and George Gershwin's immortal Rhapsody in Blue. Both Prelude and Deodato 2 feature stellar lineups, including CTI regulars Ron Carter and Stanley Clarke (basses), Billy Cobham (drums), Hubert Laws (flute) and Airto Moreira (percussion). As well as the original stereo mixes, Vocalion's reissue includes the quadraphonic mixes of both albums (their first ever appearance in digital format), which were made by Rudy Van Gelder at his historic studio in Englewood Cliffs, New Jersey. Heard in four-channel sound, both Prelude and Deodato 2 are given new and exciting life, and rounding out this reissue is a detailed essay giving the full lowdown on Deodato and the music itself.
The final title in this batch compiles two albums fronted by music industry mogul Cecil Holmes. After a stint at the Casablanca label, where he was National Vice President and Manager of R&B Operations, he joined CBS Records in the early '80s. As the label's Vice President of Black Music A&R, he would spend the next ten years shaping the careers of Michael Jackson and Luther Vandross, overseeing Marvin Gaye's Sexual Healing comeback and unwittingly ushering in the second coming of the boy band era when he gave New Kids On The Block their first recording contract in 1986. But before all of that, he'd been with the New York-based Buddah Records, where his acumen as an A&R man had earned him multiple industry awards and numerous gold records; he'd also been instrumental in signing Gladys Knight & The Pips and had shepherded the careers of leading artists including The Isley Brothers, Curtis Mayfield and The Impressions.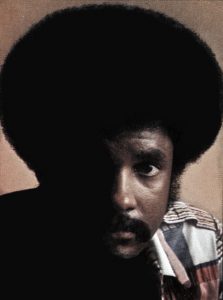 Holmes himself was no musician, so when he decided to be the frontman for an album drawing together themes from the Blaxploitation genre, he turned to arranger-composer Tony Camillo as the man who would put it all together. The result was 1973's The Black Motion Picture Experience on the Buddah label. Credited to The Cecil Holmes Soulful Sounds, it was performed by an all-star studio orchestra (including bassist Bob Babbitt and drummer Andrew Smith) and featured mean, funky takes on Blaxploitation staples such as Isaac Hayes's Shaft, Curtis Mayfield's Superfly, Marvin Gaye's Trouble Man and Billy Preston's Slaughter.
Encouraged by the album's success (it sold a reported 100,000 copies in its first year), Holmes quickly commissioned a follow-up, Music for Soulful Lovers. Released towards the end of 1973, it looked to the then current crop of hits by soul music luminaries including Barry White, The Stylistics, Stevie Wonder, Al Green and others. And Tony Camillo was on hand once more to provide a series of groovy arrangements performed by a studio orchestra comprising many of the musicians who'd contributed to The Black Motion Picture Experience. The album also includes three original songs by Tony Camillo (two of which have Holmes himself laying down his best Barry White-style love rap), prefiguring Camillo's own solo success with his band Bazuka, which had a US Top 10 hit in 1975 with the song Dynomite. Vocalion's reissue marks The Black Motion Picture Experience's and Music for Soulful Lovers' premiere digital release, and this Hybrid SACD contains the original stereo and quadraphonic mixes of both albums.
Michael J. Dutton has remastered everything from the original tapes, ensuring that this wonderful music reaches the ears of 21st-century listeners the way it's supposed to.