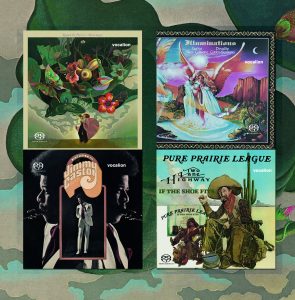 For Vocalion's August release, we've taken a deep dive in to the vaults of the RCA and Columbia labels, and surfaced with a treasure trove of recordings from the heyday of quadraphonic sound. Covering country, rock, R&B and jazz fusion, this new release of five albums across four SACDs represents Vocalion's most varied slate of quadraphonic offerings to date.
Leading off are two albums (compiled on one SACD) from RCA country-rock stalwarts Pure Prairie League, which find the band making the most of the unlikeliest of second chances. The Ohio natives recorded two albums for RCA in 1972, but just as their star was beginning to rise, original lead vocalist Craig Fuller was jailed for draft evasion. Unable to tour without him, record sales stalled and RCA dropped the group. Flash forward a year and the remnants of the band had regrouped with ex-Sacred Mushroom vocalist and lead guitarist Larry Goshorn, and embarked on nearly 18 months of college campus touring. This would create a level of grassroots support for the group that RCA couldn't ignore, especially when they managed to sell nearly three times as many albums as an unsigned band in 1974 as they did when they were with the label in 1972.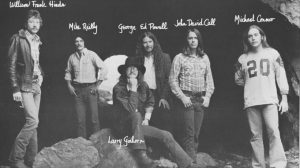 After signing with RCA for the second time in late 1974, the band paired up with super-producer John Boylan for the two albums that comprise this reissue, 1975's Two Lane Highway and 1976's If the Shoe Fits. Boylan, who'd been pivotal in Linda Ronstadt's early success (including the recruitment of a backing band that would go on to become the Eagles) and who would produce Boston's breakthrough debut album immediately after, was perfectly suited to taking Pure Prairie League's road-honed interplay and elevating it with a layer of studio polish. If contemporaries like The Byrds, Poco and the Eagles were on the rock side of the country-rock railroad track, Pure Prairie League found itself a little more on the country side. Both Two Lane Highway and If the Shoe Fits have plenty of rock sensibility (and were both Billboard Top 40 hits as a result), but they also never forget where they came from, boasting plenty of pedal steel, banjo, and chicken pickin' – not to mention guest appearances from the likes of Chet Atkins, Don Felder and Emmylou Harris. This new double album compilation marks the high-resolution debut of both the stereo and quadraphonic mixes of these albums.
Making its worldwide digital debut as part of this release is The Jimmy Castor Bunch's 1973 hidden gem, Dimension III. To say that Castor, a multi-talented R&B singer/songwriter/producer/arranger/saxophonist (and self-proclaimed "Everything Man"), had a colourful career would be an understatement. Starting as a doo-wop singer, by the age of 15 Castor (almost by accident) had become the author of a hit single when neighbourhood friends Frankie Lymon and the Teenagers covered his own group's I Promise To Remember as the follow-up to their smash hit Why Do Fools Fall In Love, taking the song to No. 10 in the US R&B charts in 1957. Plying his trade as an arranger and studio musician for most of the next ten years, Castor would go from doo-wop singer to sax-playing Latin soul bandleader. His new group landed a leftfield hit in 1967 with Hey Leroy (Your Mama's Calling You), a song that perfectly paired Castor's gonzo sense of humour with his ability to craft an irresistible groove.
Castor's uncompromising attitude would lead to a fall out with the label that released Hey Leroy and he'd return to relative obscurity in the following years, but by late 1971 his band (now called The Jimmy Castor Bunch) had signed with RCA. His first album for the label (which one critic described as "grunge funk") seemed destined to stay underground, but when FM radio DJs started playing the album cut Troglodyte (Cave Man) it became a word-of-mouth sensation. Released as a single in early 1972, it made it to the upper reaches of both the US Pop and R&B Top 10. A second album was rush-released by the end of the summer but underperformed, and an obvious cash-in single, (Luther the Anthropoid (Ape Man), didn't even crack the Top 100. Castor, who feared being pigeonholed, knew he had to change things up and Dimension III was the result.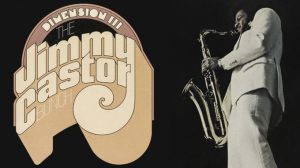 Eschewing much of the aforementioned "grunge funk" and scatological humour of his previous two RCA albums in favour of sophisticated horn and string arrangements and a stronger focus on melodic songwriting, Dimension III sees Castor employing every one of his many talents to great effect. Castor divided the album into vocal and instrumental sides, and the vocal side finds him tackling a wide array of R&B, from modern cinematic funk to sweet soul and even a little bit of the doo-wop of his youth. On the instrumental flipside, Castor stretches out as a soloist for the first time on one of his records, proving in the process that his sax playing may be the most polished of all his talents.
One of the first QuadraDisc LPs that RCA ever released, Dimension III holds the unique distinction of being a "single inventory" title, meaning the four-channel quadraphonic mix was the only mix of the album done, as the label wanted to tout the backwards compatibility of quadraphonic records with existing stereo systems. In the wake of Castor's acrimonious departure from RCA in late 1973, the label took Dimension III out of print and it has remained that way – until now. This new SACD edition presents the original quadraphonic mix in all its glory, along with a stereo fold-down of the quad mix – more than forty years later the universal compatibility of the QuadraDisc fulfilled in a way its inventors could never have imagined.
Another album making its high-resolution debut in both quadraphonic and stereo is Carlos Santana and Alice Coltrane's 1974 genre-bending collaboration, Illuminations. Equal parts rock, free jazz and jazz fusion, the album was part of the culmination of Santana's most prolific period, one that between solo and group activity saw him release seven albums in less than three years. When the hit-making original Santana band, beset by escalating internal strife, imploded in late 1971 following a disastrous South American tour, it could have easily spelled the end of Carlos Santana's recording career. Instead, it had the opposite effect. Santana's quest to challenge himself both musically and spiritually in the wake of this turmoil would fuel a prodigious output that included 1972's Caravanserai, 1973's Welcome and 1974's Borboletta with the Santana band, and solo collaborations with Buddy Miles (1972's Live!) and Mahavishnu John McLaughlin (1973's Love Devotion Surrender) along with the release of a sprawling triple-LP live album (1974's Lotus) in Japan.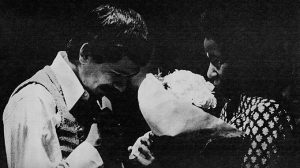 Released just a month before Borboletta in September 1974, Illuminations stands as a unique entry in Carlos Santana's nearly fifty-year recording career. Brought together by a shared interest in Eastern philosophy, along with Santana's love for John Coltrane (it was the two Coltrane covers on Love Devotion Surrender that had caught Alice Coltrane's initial attention), the album is a departure from everything Santana had done previously. As Santana said in his 2014 autobiography The Universal Tone, "the music really took me farther away from that classic Santana sound than almost any other recording – farther away but closer to where my heart was." Although it's co-billed to Santana and Coltrane, the album is a collaborative one in the truest sense, with saxophonist Jules Broussard and keyboardist Tom Coster afforded equal space for solo exploration alongside Santana and Coltrane – no single musician dominates proceedings. Mention must also be made of the rhythm section, which includes Miles Davis/Bitches Brew alumni Jack DeJohnette on drums and Dave Holland on bass, and Alice Coltrane's sweeping string arrangements – the grand vista in front of which the instrumental excursions take place.
Not only was Carlos Santana one of Columbia's most popular artists, but between solo and group endeavours he was also their most prolific single producer of quadraphonic product, with all twelve of his efforts between 1969 and 1977 seeing a quad release. The Santana albums are regarded by many quad enthusiasts as the gold standard for the format, and Illuminations – the first of these historic studio albums to be released in high-resolution – is no exception.
Last, but far from least, is jazz fusion trailblazer Return to Forever's studio swansong, Musicmagic. Recorded after the breakup of the group's longest lasting and most commercially successful lineup, the album finds founding members Chick Corea and Stanley Clarke supported by keyboardist-vocalist Gayle Moran, drummer Gerry Brown and a four-piece horn section headed by CTI sax man (and returning RTF charter member) Joe Farrell. The departure from Return to Forever of guitarist Al Di Meola and drummer Lenny White – who'd appeared on 1974's Where Have I Known You Before, 1975's Grammy-winning No Mystery and 1976's platinum-selling Romantic Warrior – has divided fans for forty years. But Musicmagic offers a fascinating insight into Chick Corea's unquenchable thirst to satisfy his creative muse at almost any cost. Gayle Moran's lilting vocals on Musicmagic have also proved equally divisive, and while they aren't the first on a Return to Forever record (Flora Purim was the featured vocalist on their initial two albums in 1972) they certainly add a new wrinkle to the band's sound. At first blush, Musicmagic may seem like the classic "sell-out" album, where a band adds a vocalist in the hope of mainstream fame, but Moran's voice is employed more as a textural or arrangement tool. Often, it bookends or divides the long instrumental workouts for which Return to Forever is famous, rather than becoming the focal point of the album. While Musicmagic may have a slightly more urbane, refined feel than the fireworks unleashed by the band's previous lineup, it's no less fascinating or challenging. Corea's and Clarke's gifts for harmony and melody are placed centre stage, and the music is often so highly arranged and rhythmically intricate that at times it approaches the progressive rock territory of bands like Emerson, Lake & Palmer and Yes.
Released in April 1977, Musicmagic holds the somewhat ignominious distinction of being the last quadraphonic popular music release ever by Columbia Records. Somewhat paradoxically though, it's also one of the best – the product of nearly ten years' experience by one of the market leaders in the format. Because it was released so late in the day, the quad version of Musicmagic enjoyed the briefest print run of any Columbia release, becoming a highly sought-after item in the years since. Vocalion's new SACD aims to rectify this superb album's status as a rarity, making the quad mix available for the first time since 1979, alongside its stereo counterpart in high resolution.
All the albums in this release feature new and extensive liner notes, and have been expertly remastered by Michael J. Dutton from the original master tapes to maintain their original tonality and dynamic range.
Vocalion Hybrid SACDs play in three ways – high-resolution multichannel (quadraphonic), high-resolution stereo and standard 44.1kHz/16bit CD stereo. The SACD layer (which contains both multichannel and stereo programmes) is playable on any SACD-capable device, while the CD layer provides stereo playback on any standard CD player.
David Zimmerman