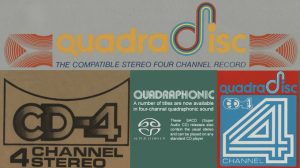 "Quadraphonic sound"
It's one of those phrases that evokes images of some of the groovy excesses of the 70s, along with pet rocks, deep pile carpeted everything, and bell bottom jeans. The prevailing wisdom in the decades since quad's commercial demise in the second half of the decade has been that it was a blip on the musical radar, a gimmick that rightly never caught on. The truth of the matter is not only more complex than that; it's also more intriguing as well.
The move from mono to stereo records in the late 1950's ushered in an unparalleled decade of growth for the music industry, and so ubiquitous was the acceptance of the new format that within a few years of its introduction the de facto name of the device you played your records on went from being "the hi-fi" to "the stereo". It was with that success in mind that nearly a decade later the recording industry was hoping to capture that same lightning in a bottle again, by introducing 4-channel discrete "quadraphonic" sound for the consumer. While the decision to put two more speakers behind the listener may have its roots in somewhat cynical financial motives (it is the music business, after all), what producers, engineers and musicians who embraced the format quickly realised was that a four speaker setup opened up a world of new sonic possibilities. This didn't just mean putting sounds directly behind the listener; rather that because the four speakers actually formed four stereo sound fields (front, back, left and right sides) it was now possible to place sounds anywhere in 360 degree radius around the listener. You could have a horn section beside you, or backing vocalists or a choir behind you, sit on the drummer's throne surrounded by drums, or feel like you're in the studio with a rock band, guitars howling behind you as the rhythm section pounds in front. This 360° sound field also for the first time afforded the possibility of putting listeners in to acoustic spaces; whether it was experiencing sound reverberating off the cavernous walls behind you in of the historic cathedrals of Europe during an organ recital, or slapback echo from a rock band hitting the walls in Columbia's Studio B in New York, for the first time the listener could be in the performance rather than a passive observer from afar.
There had been sporadic releases of quadraphonic recordings by smaller labels as early as 1969, but the quadraphonic era was really inaugurated when RCA Records released more than 50 albums from their back catalog on quadraphonic 8-track tape in December 1970, including releases from The Guess Who, The Friends Of Distinction, Henry Mancini, Jose Feliciano, Arthur Fiedler and The Boston Pops, Eugene Ormandy and many others. The next major player to enter the quad marketplace was CBS, when in January 1972 their Columbia and Epic labels released several dozen back catalog titles remixed for quad, including albums from Janis Joplin, Santana, Johnny Cash, Johnny Mathis, Sly & The Family Stone, Ray Conniff, Percy Faith, Leonard Bernstein and others. Both CBS and RCA continued to release quad product throughout 1972, joined by a growing chorus of other labels including ABC/Dunhill, A&M, Atlantic, EMI, Decca, London, and Vanguard. By the time Elektra, Warner Bros., CTI/Kudu, and UA had released quad product in 1973 however, it was becoming clear that the industry was becoming locked in to an intractable format war when it came to LPs, the dominant delivery format of the time. The recording industry believed strongly that one of the main reasons for the success of stereo records in the 60s was that they were backwards-compatible with mono turntables, and so 10 years later they mandated the same compatibility for quadraphonic records: they had to play back in quad, stereo or mono without any detrimental effect to the sound. Making stereo records that were mono-compatible had been a relatively easy task, but fitting 4 channels where there had previously been 2 (and before that, 1) was infinitely more difficult, and there were competing philosophies on how to accomplish this task. On one side there were so-called "matrix" formats (SQ, QS, DY, and EV-4), which used a fancy version of phase shifting to mix 4 channels in to two, and then un-mix them using a decoder on playback. On the other side was the "discrete" format, CD-4, which used a modulation technique similar to the one used to bring stereo sound to FM radio, effectively stacking the rear channels on top of the front ones, and required a special turntable needle and a demodulator to 'un-stack' the channels for playback. With considerable sums of money on the line in both hardware and software sales, by 1973 the industry was in a Mexican standoff: Columbia, Epic, Stax, CTI, Vanguard and others released records in the SQ matrix format, ABC/Dunhill, Pye, Project 3, and Ovation released records in QS matrix, and RCA, Warner Bros, Elektra and Atlantic released their records in the CD-4 discrete format.
If this all seems confusing, it's because it is. Even more detrimentally, it made playback of an extensive quad collection almost prohibitively expensive because none of the various formats were compatible with each other, and each one required its own decoder. If you wanted to listen to Santana, Chicago, Aerosmith, or Pink Floyd in quad you had to buy an SQ decoder, while Steely Dan, B.B. King, Joe Walsh or Keith Jarrett required a QS decoder, and if you wanted to listen to Frank Sinatra, The Doors, Henry Mancini, or Joni Mitchell you needed a CD-4 demodulator and an expensive Shibata tip stylus for your turntable. Buying a 4 channel amplifier and new speakers – a prerequisite for any quad system – was already a significant financial outlay and for many consumers the idea of having to buy several more pieces of outboard gear to deal with the various formats was a step too far. For those who did take the plunge, the results were often underwhelming; early matrix decoders produced very little front to back channel separation, and CD-4 demodulation was temperamental at the best of times, often giving the demodulated sound a gritty, sandpaper-like quality. Despite these drawbacks, quad saw exponential growth in both the number of albums released and sales of product in 1973 through 1975 with even more labels issuing their first quad releases, including Arista and many others.
But in an industry that was selling millions of copies of stereo albums at the time, quad's status as a niche format was viewed as a failure. A perfect example of this is Santana's 'Abraxas' album: it sold almost 175,000 copies in quad by 1975 (the kind of sales numbers that would have given most bands hit record status) but compared to the over 2 million copies the stereo version had sold by that point, it almost paled in to insignificance. The number of quad releases fell off a cliff in 1976, and by 1978 the industry's grand experiment with releasing surround sound music was over, at least for a couple of decades anyway.
Ask any fan of quadraphonic sound about its decline and you'll almost always get a series of wistful "what ifs" in response. "What if the technology was better?", "what if the format had lasted long enough to make it on to cassette or CD?", "what if the industry had been able to agree on a single standard? " The reason for this isn't mass nostalgia, as a large percentage of the people who collect quadraphonic music these days aren't even old enough to remember the format in its first go-round. The truth is there's a magic in these recordings, a sense of three-dimensional engagement that's still evident even on a crackly LP played through a 40 year old decoder, or a wobbly 8-track tape that truth be told didn't even sound that great when it first came out of the shrink-wrap. That magic is no accident either as these quadraphonic mixes were produced by many of the top producers and engineers of the 70s, and most of the leading recording studios in the United States and Europe were equipped for quadraphonic mixing. The industry may have stumbled at the final hurdle in the 70s by failing to find a viable consumer format for quadraphonic sound reproduction, but just as with the stereo versions of these albums, they took the utmost in care in creating the quadraphonic mixes. As a result we're left with a legacy of literally thousands of surround sound mixes, an absolute treasure trove representing every genre of popular and classical music from one of the golden ages of recorded sound.
A lot has changed since the heyday of quadraphonic sound, but as the old adage goes "everything old is new again" and in the late 1990s surround sound in the home had its second coming thanks to home cinema systems and blockbuster movies. This also gave another life to surround sound music, which has seen release across a variety of digital formats over the last 15 years. Amongst these, there's one that would have blown the minds of the label executives and engineers who were looking for the perfect backwards-compatible surround sound disc in 1970. It's called Super Audio CD (or SACD) and it's truly a marvel of modern engineering. SACDs are, in technical terms, a dual layer hybrid disc. What this means in practical terms is that the disc is actually two discs glued together, both facing the same way; the bottom one is a plain old stereo CD, and on top of it is a high-resolution SACD, which can contain both stereo and surround sound versions of the album. What this means is that these discs will play in almost any device: if you put one in a CD player, it will play as a stereo CD, but if you put it in an SACD-capable player it will know to look for the SACD portion and play it back instead, either in high resolution stereo, or surround. There's no denying CDs sound good, but the high resolution sound produced by SACD is like the equivalent of HD video for your ears, and almost indistinguishable from the original master tapes. SACD has been embraced by several labels, including Vocalion, who care not only about the music they're releasing but how good it sounds. When you buy an SACD disc, not only do you get the ultimate bargain in a disc that actually contains three versions of the album you're purchasing (CD stereo, SACD stereo, and SACD surround) you're also making a vote with your wallet that both sound quality and music in surround matter.
If you have a home cinema system, the good news is that you may already be equipped for SACD playback, with no decoders, demodulators or other fancy hardware gizmos needed. Sony (one of the co-creators of the SACD format) has included SACD playback in almost all of their Blu-Ray players to date, including their latest flagship model, the UHP-H1. If the Blu-Ray or DVD player you have doesn't support SACD playback there are a number of economical options from a variety of manufacturers including Sony (most BDP series Blu-Ray players and BDV series home theatre in a box systems), Oppo (every model from their highly regarded BDP-105 and 103 down to BDP-80), and many models from Marantz, Denon, and Pioneer, amongst others. Most players will list which disc formats they support in the specifications in the back page of their manuals, and there's an additional wealth of information available online as well.
If you're the kind of person who enjoys listening to music you owe it to yourself to unlock the potential that exists within SACD – once you've heard your favourite artists in surround sound you'll never want to hear it any other way.
David Zimmerman
Toronto, November 2016