Dutton Epoch release – April 2018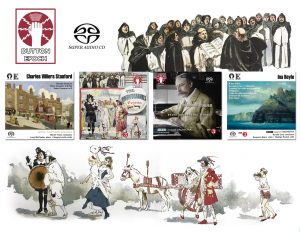 Dutton Epoch enjoyed a very active recording programme during 2017, all now coming together for a series of remarkable CD issues.  The first batch features the BBC Concert Orchestra at Watford, together with the Royal Northern Sinfonia at Gateshead with conductors Martin Yates, David Lloyd-Jones, Ronald Corp and John Andrews.
W.S. GILBERT & ALFRED CELLIER
The Mountebanks
John Andrews, BBC Concert Orchestra, BBC Singers
2CDLX 7349
The year started with a five day recording session at Watford, from 18 to 22 January.  The programme was John Andrews' revival of a charming and entertaining light opera, in fact the 'G & S' operetta that Sullivan didn't write.  W. S. Gilbert's composing partner in this enterprise was Alfred Cellier, musical man of the theatre and Richard D'Oyly Carte's Music Director at London's Opera Comique, where he was experienced in conducting the nightly runs of Gilbert and Sullivan's most successful operettas, and later took H.M.S.Pinafore to the USA, and The Mikado to Australia.  His closeness to the team included working with Sullivan to extract the overture of Pirates of Penzance from its parent score at the last possible moment. In fact Cellier was helping Sullivan write Sullivan! Thus when in the late 1880s there came a pause in Gilbert and Sullivan's co-operation, Gilbert had a new partner available to step in and take the load.  Sadly it actually came too late for poor Cellier, who died on 28 December 1891 before he had completed scoring his opera. The music director of the Lyric Theatre stepped in and completed it and it was first seen in January 1892, and ran for 229 performances with a provincial tour.  There were occasional amateur productions but it was forgotten after the Second World War.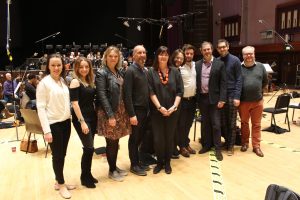 The scheduling of the recording days was based upon the availability of the singers and so those present never got to hear the music in sequence – a magic that only became apparent when the first edit was circulated to participants.  The BBC Concert Orchestra sessions customarily start after lunch on the first day which then continues until the late evening.  So we had a first day running 2:30 to 5:30 and 6:30 to 9:30.  The remaining days started at 10:30 and went through to a 5:30 finish.  Thus the various soloists sang their numbers in succession on any particular giving a particular perspective on the music.
In fact it quickly became apparent that Cellier achieved a distinctive sound in his orchestrations and as the sessions started with the four movement Suite Symphonique of 1878 (the last movement became the Overture to The Mountebanks) we had every opportunity to enjoy this inventive contribution to mid-Victorian orchestral music.  So the story that The Mountebanks must have been Cellier writing latter day Gilbert and Sullivan is far from true; here is a delightful d'Oyly Carte work that has a life of its own, and we have to thank The Amber Ring for producing new performance material.  J. Donald Smith who has edited the multiple sources to establish the recorded text writes 'it is a masterpiece in its own right'.  This is surely the case and it needs to be heard to appreciate its many charms in this vivid exploration.
CHARLES VILLIERS STANFORD
Violin and Piano Concertos
Northern Sinfonia, Martin Yates, Leon McCawley, Sergey Levitin
CDLX 7350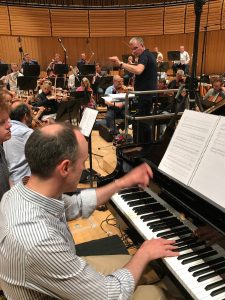 Four sessions later the Dutton team reassembled in the wooded ambiance of Hall One at The Sage in Gateshead on 2nd June, for a two day recording with the Royal Northern Sinfonia conducted by Martin Yates.  In this very sympathetic acoustic for more classically scored music, three early Stanford manuscripts were heard.  This had been very much Martin Yates project and he had edited them from the original scores, found in Newcastle University Library – presumably a legacy of the late Frederick Hudson.  These manuscript works consisted of the Concert Overture dated July 30 1870 – reputed to be the earliest Stanford ms extant; and two concertos: the Concerto in B flat for Piano and Orchestra dating from 1873 and the Violin Concerto of 1875.  The soloists were pianist Leon McCawley and Sergey Levitin, violin.
The Piano Concerto is a charming work with poise and an engaging flowing solo line, but the Violin Concerto in D major is a much more ambitious canvas, completed on 2 September 1875, and already showing how quickly the young Stanford was maturing.  Soloist Sergey Levitin again joined the Dutton team to explore unfamiliar repertoire and impressed at a first hearing with the authority he brought to the music.  Stanford had intended it for a virtuoso of his time, the Italian violinist Guido Papini, but in the event it was never played.  Here elements of Stanford's mature style are becoming apparent and one wonders why Stanford never included it among his numbered concerti.
Taking account of the splendid acoustic at The Stage and the amiable working atmosphere with all concerned it was good to hear Stanford's early music come to life so vividly, and the soloists project their discoveries with such commitment.
EDWARD ELGAR
Short Orchestral Works
David Lloyd-Jones, BBC Concert Orchestra
CDLX 7354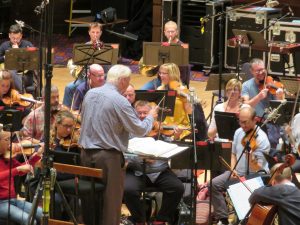 Dutton's ninth recording session in 2017 saw a return to Watford and the BBC Concert Orchestra on 18 and 19 September, for sessions with conductor David Lloyd-Jones, exploring Elgar's short orchestral works, many of them familiar, and all played in David's newly published authentic editions in his Volume 23 of the Elgar Complete Edition.  As he writes in his booklet note for Dutton they 'could be considered as representing the very essence of Elgar'.  There were many magical moments as we were taken through this Elgarian panorama by a man who having edited all the editions being played had them in his very bones.  This extended from the very earliest Air de Ballet – Lloyd-Jones calls it 'an Elgarian apprentice work '– of 1881, first heard in Worcester that year by the local Worcester orchestra, led by Elgar himself. It was long forgotten and lost but now makes a charming start to this recorded repertoire.
In the acoustic of the Collosseum (familiar to an earlier generation as Watford Town Hall) this was a rewarding recording session as a succession of familiar themes were shaped by an orchestra that was as clearly revelling in its delights as their conductor.  And yet we were hearing much of it through new ears.  Sevilliana, Salut d'amour, Three Bavarian Dances, the Minuet Op 21 and the familiar Chanson de Matin and Chanson de Nuit. May-Song with the ad-lib harp part, the first recording of Canto Popolare  (from In the South) in a version for small orchestra, and the orchestral version with solo of the song Pleading.  The choice of soloist in Pleading is optional but it was an inspiration to give it to solo violin, and as we heard Charles Mutter's delicate soaring violin line it was immediately obvious that this is the correct scoring, and the music becomes another of those Elgar violin lollipops. It was a magical couple of days and it was so good to hear all these pieces together in one place on such a sympathetic occasion.
INA BOYLE
Ronald Corp, BBC Concert Orchestra, Benjamin Baker, Nadège Rochat
CDLX 7352
Still at the Watford Collosseum, on 8 to the 10 October, with the BBC Concert Orchestra Dutton rounded off its 2017 recording season with a programme of music by the Irish student of Vaughan Williams, Ina Boyle, who died in 1967. Conductor Ronald Corp had first taken an interest in Ina Boyle for Dutton back in 2012 when he conducted her orchestral tone poem The Magic Harp on a Dan Godfrey celebration programme for the Bournemouth Symphony Orchestra.  For those who have never heard her music more than one person present was comparing it to E.J.Moeran.  Six works were recorded all written between 1919 and 1942.
The Concerto for Violin and Orchestra of 1935 was played by Benjamin Baker with a sweet tone.  This is a rhapsodic work in which the three movements are played without a break.   Corp and the soloist managed the current of the music with sympathetic attention to detail but never losing the ebb and flow of a delightful discovery.
Boyle wrote three symphonies and it was good to hear the earliest of these, with the subtitle Glencree ('In the Wicklow Hills') which dates from 1924-1927.  Maybe almost a programmatic three movement tone-poem, a succession of musical tourist postcards – 'On Lacken Hill' – 'Nightwinds in the Valley' – ' Above Lough Bray', but the energy of the middle movement when heard in the hall persuaded one that this was indeed  a work of some stature whose appearance on disc is long overdue.
A short piece for cello and orchestra, Psalm, dating from 1927, was powerfully played by the young cellist Nadege Rochat, and the programme was completed by four short orchestral works: Overture for orchestra (1934);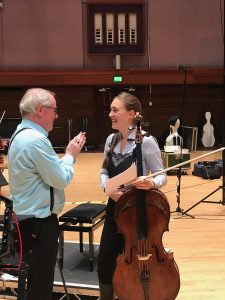 Wildgeese (1942); A Sea Poem: Theme, variations and finale for orchestra (1919)
and Colin Clout  ('A Pastoral after Spenser's "Shepherd's Calendar") (1921).
These were very enjoyable sessions and as work followed work Ina Boyle was revealed as a composer of some personality and engaging invention; everything we heard was a delight. Conductor Ronald Corp was clearly as enthusiastic as those in the control room and the BBC Concert Orchestra responded with their customary sympathy for the music.  This was Dutton's 56th CD programme with the Concert Orchestra and as ever one was just amazed at how they projected the music even at a first take.  Producer Neil Varley (who recorded all four CD programmes covered in this note) was the authoritative and encouraging voice on the talkback.
LEWIS FOREMAN