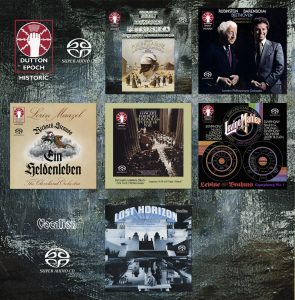 Leonard Bernstein, Pierre Boulez, Daniel Barenboim, Artur Rubinstein, James Levine, Lorin Maazel, Charles Gerhardt …
Dutton Epoch has revived some of the finest recordings made by CBS and RCA during the quadraphonic boom of the 1970s, and presents them across six individual SACDs.
Leonard Bernstein's Concert for Peace, a protest at the Vietnam War, took place in Washington Cathedral during January 1973 and featured a spellbinding performance of Haydn's Mass in Time of War. Here it's coupled with Bernstein and the New York Philharmonic's reading of Haydn's Symphony No. 96, "Miracle". James Levine conducts the London and Chicago symphony orchestras in Mahler's First and Fourth symphonies respectively; also featured is Levine and the CSO's recording of Brahms's First Symphony, which has been remixed in quadraphonic sound especially for this limited edition reissue. Daniel Barenboim and Artur Rubinstein's cycle of Beethoven piano concertos were recorded with the London Philharmonic in 1975, and are widely considered the definitive interpretations. However, the four-channel recordings were issued in Japan only and thus are extremely rare – this reissue makes available once more the quadraphonic versions of Concertos Nos. 3 & 4.
The New York Philharmonic under Pierre Boulez is heard in an all-Stravinsky programme comprising Petrushka ("immortal hero of every fair in all countries," according to the composer), the early Scherzo Fantastique of 1907-08, Symphonies of Wind Instruments and the Diaghilev-commissioned Pulcinella Suite. Lorin Maazel and the Cleveland Orchestra present a wonderfully authoritative reading of Richard Strauss's Ein Heldenleben, originally recorded in 1978; augmenting this reissue is Maazel conducting the New Philharmonia, the Ambrosian Singers and mezzo-soprano Yvonne Minton in Brahms's Alto Rhapsody, recorded during November 1976 at All Saints Church, Tooting.
A disc devoted to the music of film composer Dimitri Tiomkin rounds off this release. RCA house-conductor/producer Charles Gerhardt leads the National Philharmonic Orchestra in music from Hollywood classics Lost Horizon, The Guns of Navarone, The Big Sky, The Fourposter, Friendly Persuasion and Search for Paradise. Recorded at the Kingsway Hall in brilliant, full-bodied sound by Decca engineer Kenneth Wilkinson, this reissue also includes a suite from Tiomkin's score for The Thing from Another World, which makes its debut in quadraphonic sound.
All the music has been remastered from the original analogue tapes (stereo and quadraphonic), and these SACDs are fully compatible with standard CD players.